Implants placed in Bone
Braenemark's technique in use for over 35 years is based on metal cylinders, made of Titanium, or Titanium oxide, roughly tooth root in shape, and placed or .screwed into the bony jaw
The implants have an internal thread, allowing a post to
.be screwed into the root-face of the implant
A porcelain crown can them be cemented or screwed onto the post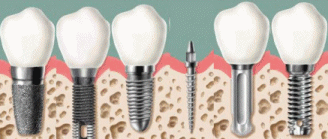 | | | | | | |
| --- | --- | --- | --- | --- | --- |
| Roughened | composite | root form | Mini | Cylinder | Screw |
Wide acceptance of this technique has reulted in an explosion of new implants, each with their own specific advantages; and the development of a large number of accessory items; allowing, for example attachment of angulated posts to the implant, ball attachments for dentures, and more.
The development of various rougned surfaces, by sand blasting, and chemicaly roughened surfaces has also had its effect on treament plans; allowing shorter waiting periods before full loading is permitted; and even immediate loading on freshly placed implants. Immediate loading is permisible when over 35 Npascals is obtained on measuring the shearing strenght of a new implant's attachment to bone as measured by a torque wrench.
Implants placed on the jaw bone
This old technique is now rare or non-existant.
The implants were were like a trunk of a tree with a metal mesh for roots
They were popular for a short time in the '70s
and used particularly in places were there was little .or no bone left in the lower jaw
Advantages of Implant as replacement for missing teeth
Implants are the nearest equivalent to a lost tooth, in shape and function,
allowing replacement of a missing tooth without damaging or preparing adjacent teeth.
Implants return the jaw to full function, allowing chewing pressures similar
to those applied on natural teeth, and much greater than removable dentures allow.
Loss of all the teeth in a jaw
When it's too late to treat and there is no other choice other than extractions,
the chance should not be lost. Placing implants near to the time of extractions, and placing porcelain crowns
gives a wonderful restoration and a great aesthetic result.
If time has gone by, and removable dentures rightly seem a poor replacement,
then fixed screw or cemented bridges on .implants are a better solution
Recently advances in short implants have been wonderful, the Bicon implant
actally encourages new bone growth around the neck of the implant