Implants as a Solution for tooth loss
Implants are suitable for nearly everyone. there is no age limit, and even chronic disease
is not an obstacle as long as the disease is well controlled.
For smokers, the success rate is 80% as opposed to 97% in non smokers.
However, smokers can enjoy the higher success rate,
mearly by refraining from smoking from one month before the implant procedure
till one month after
surgery
One missing tooth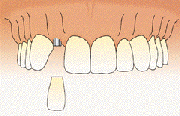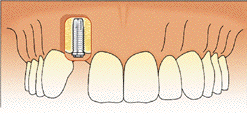 Implants are stand alone; not connected to adjacent teeth, so when a single tooth is lost by trauma or disease, an implant is a better option than a bridge which involves preperation of adjacent teeth.
When adjacent teeth are small or weak, implants are also the better choice.
Several Missing Teeth


The traditional treatment for several missing teeth was a long porcelain or gold bridge,
or by a denture.
Here the implant comes into its own, providing strong support and protecting the jaw bone,
without damaging or shortening the life span of the other teeth.
Removable dentures gradually extract the teeth they use for support, while implants provide support and protect nearby teeth.
Lost Back Teeth
When the back tooth is lost , it is no longer possible to place a fixed traditional bridge
The only options are dentures or implants. Clearly implants are a better choice.