Menu ShenYafa /configure links below. Extend as desired
Israel's prime Dental site

Dr David Vinegrad's Dental Office

Dentistry with a Modern Approach
Teeth in an Hour -the planning stage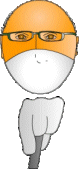 | | | |
| --- | --- | --- |
| Same Day Implants | | updated 07/2021 |
The planning stage begins with a thorough check of the whole mouth, gums, soft and hard tissues, and remaining teeth if any.

Ful mouth xrays are required and if there is a full denture it is prepared for a special 3D scanning CAT scan called i-cat.
If there are remaining teeth, and impresion of the jaw is taken to fabricate a temporary denture neccesary for the i-CAT scan.

The results of the scan are processed on computer and used for the detailed planning; a virtual operation is performed on computer.

The planning, and most of the work is done on computer, without the patient being present.
Implants

Teeth in an Hour

Planing Stage